FOR TODAY
Outside my window... it is dark.  Cold.  Damp. 
I am thinking... that the desk before me is a heaping, cluttered mess.  It really bothers me.  But I have to make it a mess in order to clean up a mess.  I'm sure you understand. 
I am thankful for... boot camp at my gym (thank you My LTBucks) and sore muscles,
a new (non-leaking) water faucet installed by the amazing Engineer
The old faucet (that used the above-counter Aquasana water filter – see where it is attached, Karen?)
had seen its better days.  It came with the house . . . but it was dilapidated. 
Since we are kind of on a forced remodeling kick, the cranky faucet and sprayer was replaced by a bronze faucet that is slightly more kid-friendly, with the water filter system residing UNDER the sink . . . also by Aquasana. 
We brought our original counter filter with us from our old house.  I think we are going to attach it to the school room sink.
Maybe we have filtered our drinking water with the Aquasana filtration system for 7 years . . . perhaps 6.   I have no complaints . . . their customer service is top-notch.
and a fabulous husband and father-in-law who installed them . . . I don't know how I ever cooked or did anything at night without lights.  It was like Little House on the Prairie in my kitchen.  Seriously.
From the learning rooms... a productive week . . . a good week.  The fireplace and stereo (thanks to Jeff) that is hooked up to Pandora have lured us down to this knowledgeable room.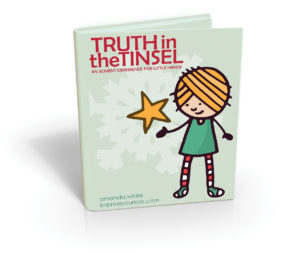 We have been using Truth in the Tinsel for Advent . . . and have really enjoyed the quality discussion it has provided while making a simple and "I might actually appreciate and keep" craft. 
Those clothespins are Mary.  She is dressed . . . slightly flashy.  No worries, I took a significant amount of glitter off her dress when I placed our Birth of Jesus Bible study from Grapevine (my sponsor – just saying) on top of the girls. 
Of which, I must say . . . I am really liking my stick figures.  We are having a good time in the Word, focusing on the reason for our Salvation.
I finally made Naomi a Sensory Bin . . . so excited.
She DID NOT care for the colorful confetti . . . so I took that out.
I had some leftover items and created a bin for Gabe, too.
He loves the fake snow . . . I on the other hand regret ever purchasing said delightfully dispersive substance. 
From the kitchen... a delicate balance of Weight Watchers and whole foods is attempting to be lived out.  I am fermenting coffee kombucha for the first time and hope to write a tutorial should it taste good.
A lot of tea has been brewing in my kitchen.
Thanks to those of you who ordered tea from the Humboldt Tea Company . . . Dan surprised me and sent me all of the samples that you all requested. (Thanks!)
So . . . um . . . selfishly I am asking you to buy more tea so that I can sample more tea!!!  Think it will work?
Last night the Engineer and I had Enlightenment Tea. 
It has a sweet, fruity smell to it and was very pleasant to drink (in my vortex mug, of course.)
Tonight, I sipped on Orange Blossom Oolong.  I was surprised at the rich brown liquid that seeped from this tea.  But it was nice . . . especially with the second steeping.
I am creating... muscles that burn fat. 
I am going... to see my college roomie this weekend.  I can't wait!
I am reading… sigh . . . too much and not enough.  On my nightstand . . . nuts I can't remember.  It is a fiction book about a girl that went to a wedding.  Oh, and Give Them Grace (need to write a blog post about this!)and Loving the Little Years: Motherhood in the Trenches.
I am hoping... to make a Shutterfly book (thanks Melanie), dust, sprout some wheat berries (for those who eat grain in my house), workout one or two more times this week, attend a Weight Watcher weigh in, and start my online Christmas shopping.
I am hearing... the dryer and David Nuveu playing in the boys' bedroom.
Around the house... God is begging us to spend more time in His Word and dig deep for patience and self control.
One of my favorite things... the sweet time the boys and I have had drawing our stick figures for The Birth of Jesus . . . going to bed at the same time as the Engineer (instead of typing on my computer) and staying up way to late talking. 
A few plans for the rest of the week: finish school strong, mop the kitchen floor, visit Walmart, make some ornaments.
Here is picture for thought I am sharing...
In case you didn't realize it, steamed broccoli and popcorn actually compliment each other.  When chewed in tandem, they produce a nutty flavor in your mouth.  I have my sons to thank for this new knowledge.
By the way, can you wear brown shoes with grey slacks?  It is a discussion in our house and I am curious about what you all think.  Do share your thoughts.