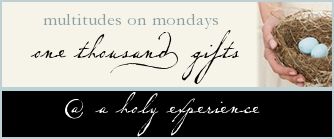 I think pregnant women are beautiful. 
Especially their bellies. 
I got to rub this one . . . and take pictures. 
Amateur photos, that is.
Honored.  Thankful.  Amazed. 
Being with a laboring woman . . . to feel the power of life.  The miracle of life. 
God is a creative One.  Of that I am sure.
13 For you created my inmost being;
   you knit me together in my mother's womb.
14 I praise you because I am fearfully and wonderfully made;
   your works are wonderful,
   I know that full well.
15 My frame was not hidden from you
   when I was made in the secret place,
   when I was woven together in the depths of the earth.
16 Your eyes saw my unformed body;
   all the days ordained for me were written in your book
   before one of them came to be.
17 How precious to me are your thoughts,God!
   How vast is the sum of them!
18 Were I to count them,
   they would outnumber the grains of sand—
   when I awake, I am still with you.

Psalm 139:  13-18
So . . . not a list of multitudes.  Just one.
Life.  Powerful. 
OK . . . I can't resist.  Here are a few more.  My journal is beside me.
250.  Mountain biking with my sons and experiencing "danger" with them prayerfully.

251.  Bagels roasted over an open fire.

252.  A computer box in the hands of a UPS man, just before we left for vacation.

253.  Grimy bathrooms that house gentle showers and refreshment at a campground.

257.  A meal filled with ingredients from our garden.

258.  A night of delivering essential oils like St. Nicholas.

262.  My mother-in-law and her Kerug . . . while camping.  Thank you electric campsites.

263.  Electric dog training collars.

264.  A 7 year old boy who wanted to make sure his brothers received presents on HIS birthday.

265.  Fellowship and feasts . . . miles from home.