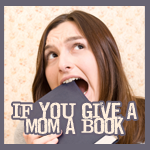 Transition can be a difficult thing. And our transition from vacation mode to family life came with a few moguls and black diamonds along the way.
We read books, did school, learned to get along (multiple times), welcomed a new family member into the world, shoveled snow, began to learn about the United States, and worked towards getting my
Once Upon A Book
post ready over at
Totally Tots
.
The fun book of the week that made our imaginations soar was . . .
We have the board book of this that we videoed Brian reading to the boys while he was in India two years ago. So it was fun to hear about how the Lazarado's acquired Bob.
It was one of our first good snugly moments of the week . . .
Sorry this is brief . . . but there is a lot to do today! But always still time to take a minute and read a book to one of my kids!
What did you read this week?
If you don't know what a Sustaining Book is check out my first blog post on this topic,
If You Give a Mom a Book
.
Some things that you could discuss in your blog post would be:
What is one book that stood out to you this week?
What was the title of the book, and who were the author(s) and illustrator(s)?
What conversations did it spark between you and your child?
Did the book come up randomly in conversation at some point causing your child to create an application on their own?
Set the scene—where did you sit?
Did you have anything yummy to eat or drink while reading?
Was music playing?
How did reading together help your day?
What was the story about?
Did you like the illustrations?
What was your favorite part about snuggling?
Why was your book a Sustaining Book?
Guidelines
Link up 1x a week. My goal is to post every Friday.
Pick one book—your favorite book from that week.
Use any one of the suggestions I listed above to include in your post.
Grab my button on the sidebar to compliment your blog post.
Enter the exact blog post address in Mr. MckLinky!
Leave me a comment that you linked up!
I can't wait to read about your
Sustaining Book
!