Connie, over at
From the Heart of My "Haus"
is celebrating
30 days of Thanks
during the month of November. Be sure to visit her blog and link up with us as we celebrate God's goodness.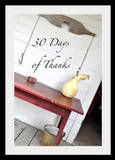 1. Mr. Smiley's delight over his first time joining us for our Starbucks party with Nana.
2. Mr. Smackdown told me that there are little people living in our TV and they have megaphones. I always wondered how pictures showed up on the TV screen.
3. MCL Day! This is the one day a year that my mom, sister and I meet at MCL (with all of our children) to honor my grandma's life. We just have a chaotic lunch enjoying the meal my grandma always got. The only difference is that she always ate her cherry pie first.
4. The highlight of the lunch was when Mr. Smiley burped and sent everyone into giggles!
5. A clean refrigerator. Thanks, Mom!
6. Forget tradition. I want to listen to Christmas music and I am.

7. I have some coconut oil. I missed it so much.

8. I am having fun having my neighbor over to play. They are doing crafts.

9. I am going to meet Baby N this weekend!

10. Even though I broke the Loser Curiser's taillight

and

scratched the Hottie's car (that is normally gone during the day, but wasn't because he biked) . . . it isn't eternal. I still have salvation even though I screwed up!

11. I took a shower before lunch.


Have you entered the Tropical Traditions Arnica Massage Oil giveaway? Even my friends can enter!



Please leave a thankful comment at these lovely ladies who are also blogging about thankfulness.