Connie, over at
From the Heart of My "Haus"
is celebrating
30 days of Thanks
during the month of November. Be sure to visit her blog and link up with us as we celebrate God's goodness.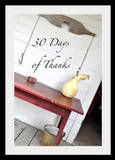 1. I actually sewed two slings today, thanks to the Hottie Hubby letting me seclude myself in my Happy Place. I just need to get listed on my
etsy site
.
2. I am thankful that God knows perfect timing.

3. It feels good to allow God to direct my time instead of being selfish with the time that He has given me.

4. It was fun to see the Hottie Hubby have all of his cycling gear on to go on a bike ride with our Pastor. I love seeing the Hottie REALLY enjoy something. Reminds me of the movie,

Chariots of Fire

.


5. We listed 4 things on Craig's List, sold one, and have a bite on another!

6. Another date night tonight . . .

Pride and Prejudice

. Don't tell anyone that I haven't finished the book yet.

7. It was a beautiful day.

8. The Hottie Hubby hung this cool wire up so that I in turn can hang up the kids' schoolwork.

9. Our garage is signifigantly organized and clean from some work in it today.

10. The boys spent a lot of time outdoors today. That is soooooo good for them!


Have you entered the Tropical Traditions Arnica Massage Oil giveaway? Even my friends can enter!



Please leave a thankful comment at these lovely ladies who are also blogging about thankfulness.