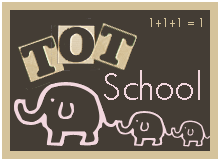 Mr. Me-Too, 39 months
Most of our traditional Tot School activities were accomplished at the beginning of the week. After that, school consisted of life, which also provides learning opportunities.
Lacing cards . . . always add an element of frustration to Mr. Me-Too's hands. However, they really work on improving fine motor skills and acute concentration. He got to the point where he didn't want to miss a hole!
He worked on writing the number 1.
Mr. Smackdown helped sort the
Alphabet Pumpkins
from
File Folder Games
.
And what is a school day without a tea party or snack?
Mr. Me-Too joined us for Mr. Smackdown's Saxon Math, and greatly enjoyed creating a movie theater for his counting bears. They were working on 1-to-1 correspondence.

We raked leaves and jumped in the piles.
Much conversation and activities this past week focused on the upcoming holiday that occurred yesterday, Halloween. You can read about our activities and my thoughts here, and be on the lookout for a follow-up post.
We also visited a pioneer settlement, that I already wrote about.
They sorted the bag of candy that we purchased from Costco into 7 different piles.
This fun activity was inspired by Royal Baloo. I put some water in those little plastic cups that I have been storing for such a time as this. Then I added food coloring, gave him a medicine dropper, and let him figure out what to do. I really thought he would mix the colors (like his brother did) but . . .
he just transferred them to another cup!
I have been collecting bottle caps for several months now. Why? I'm not sure. I just know that Carisa uses them for Tot School. Using tongs the boys had to take the caps out of the coconut oil tub and into their own buckets.
And a little sparring ensued.
Mr. Me-Too met the Letter E. I dismantled our Resurrection Eggs and the boys had to match the colors and snap them back together.
I really like stickers. On the same day that I purchased our ticket stubs, I threw in some garage sale stickers. The boys priced items in some toy catalogues that came in the mail.
We went to the apple orchard with Mama, my amazing mother-in-law who comes every Wednesday to fold laundry spend time with us.

Mr. Me-Too discovered a new animal to love . . .
It was parent night at AWANA, and I was able to shadow Mr. Me-Too until Mr. Smiley became quite tired.
And he biked . . .
and he got in the leaves with Hottie Hubby . . .
and he told people that Jesus loved them . . .
For more Tot School posts visit 1+1+1=1.