Conny, over at
From the Heart of My "Haus"
is celebrating
30 days of Thanks
during the month of November. Be sure to visit her blog and link up with us as we celebrate God's goodness.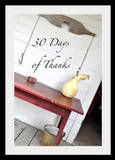 I
am
thankful for the following 40 things (in no particular order) that make up for the 4 days that I haven't blogged . . .
a break from my computer
4 wonderful days with the Hottie Hubby
good fellowship with family
decorating 2 Christmas trees
taking fun family pictures
watching an old, old movie (

To Catch a Thief

)

Fun Family Night last night with deplorable delicious food, Starbucks, and Christmas lights
raw foods
sitting in church with Mr. Me-Too
the excitement the boys display when they see Christmas lights
French Silk pie
a full night's sleep
my new version of a humidifier--a small crock pot (thanks Jennifer)
bodies that heal
coconut
the book of

Esther

Christmas music
getting the downstairs organized
new wires in the schoolroom to hang the boys artwork
the new website we joined to get postcards from all over the world (thanks Sarah)
grace
we are going to see the

Nutcracker

this week
my midwife
shopping for groceries from home (thanks co-op)
discovering that our house didn't have a heating problem, the vent just wasn't opened in Mr. Smiley's room
Christmas Spirit essential oil from Young Living Essential Oils
kefir grains
leftover Thanksgiving food (thanks Mom)
raiding my mom's refrigerator
reading in bed (

The Code of the Wooster's

)
getting packages in the mail
the pirated copy of the U2 concert that a cousin sent us
how precious Mr. Smiley looks when he is signing
quiet
feeling a pregnant sister-in-law's belly
finding out that a pair of pants fits
folding some clothes upstairs so it doesn't look quite so messy
donating items to Goodwill
being in a good mood
the Hottie Hubby


Please leave a thankful comment at these lovely ladies who are also blogging about thankfulness.