Connie, over at
From the Heart of My "Haus"
is celebrating
30 days of Thanks
during the month of November. Be sure to visit her blog and link up with us as we celebrate God's goodness.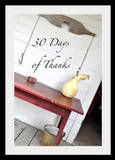 I
choose
to be thankful that . . .
I didn't fall asleep while driving for 2+ hours around the interstate, desperately trying to get Mr. Smiley to sleep, despite his double ear infection.
I resisted temptation and didn't stop to get a Crap-A-Chino to keep me awake and reward myself. I didn't go by any open Starbucks, though I know they exist at 3 AM.

Even though I HATE drugs, there are pharmacies that are open in the middle of the night.
Mr. Smiley has nursed a long time (17+ months). I won't take it personally or feel like a failure if my milk dries up because it is so uncomfortable for him to nurse right now.

I am thankful for . . . .

Seeing Mr. Smiley actually smile today.
That Hottie Hubbie and I work well together as a team.
I might be getting a new dishwasher tonight. Hottie Hubbie is looking at them presently.
Date night is tonight (a stay-at-home date night, that is)
It is a beautiful day.
My Chai was good this morning. And yes, I had caffeine.
Sometimes my herbs and essential oils actually do work and bring comfort.


Please leave a thankful comment at these lovely ladies who are also blogging about thankfulness . . .